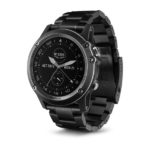 The Garmin D2™ Bravo is not just the ultimate pilot watch!
Win this challenge and own a watch that features a high-sensitivity GPS receiver, an altimeter with adjustable baro setting and a 3-axis compass with HSI course indication. With functions such as fly direct-to or nearest airport, bringing you weather updates when wirelessly connected to your compatible smartphone, or automated flight logging, it is so much more than a pilot watch.
And that is not even mentioning the activity features for running, cycling, golfing, swimming, hiking, climbing, skiing, snowboarding, rowing – just to name a few. With suitable accessories you can read your heart rate parameters, control a VIRB action camera and much more.
For details see manufacturers site
Price: Payment of $3.99 for one-time participation in challenge.